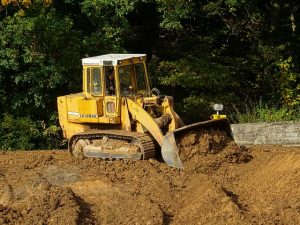 Performing regular maintenance like adjusting a multi terrain loader's track tension will grant you more service hours and lower operating expenses with your equipment.
If you have a new unit or recently installed a new set of tracks, it takes a few weeks of operation for the rubber to break in and the cord to settle. Monitor track tension during this period and avoid having the track too loose. Otherwise, the drive lugs could jump over the sprocket rollers and lead to accelerated wear, not to mention a bumpy ride.
Still, remember that some slack between the drive and the front wheel roller is normal, and you shouldn't tune the tracks too tight to avoid tearing the material. Finding the correct track tension through routine checks and adjustments is the best way to prolong the life of your tracked equipment.
How Do You Adjust the Tracks on a Multi Terrain Loader?
An operator should follow these steps when adjusting multi terrain loader tracks. Always adhere to standard safety procedures and measure the tracks on a flat working surface.
Drive the unit forward and let it coast to a stop.
Park and shut off the engine.
Carefully clean out the undercarriage to dislodge any buildup of materials.
Place about 100 pounds of weight between the drive socket and the front idler.
Lay a straight, rigid edge from the socket to the front idler.
Measure the distance at the lowest point of sag from the straight edge to the top of the track. The track sag should be 0.5 inches.
If track adjustment is needed, lubricate the turnbuckle threads and nut at the rear socket with a penetrating oil spray for easy adjustment.
Ratchet the turnbuckle forward to increase tension in the track, or backward to loosen it. Operate the equipment forward and backward and re-measure the track sag as necessary.
Will You Need Your Multi Terrain Loader Undercarriage Repaired or Replaced?
To extend the service life of a multi terrain loader's undercarriage, operators should avoid traveling on abrasive materials and sloped terrain. Workers should also avoid multipoint turns when possible and aim for gradual turns instead. Multi terrain loader undercarriage wear is inevitable, however, so look for these indications that you should consider replacing your multi terrain loader's undercarriage to keep your equipment performing its best:
Significant nicks, dings, loose chunks, pits and grooves on roller wheels
Torn, cracked, cut and broken chunks from the rubber track
Track lugs continually skipping from wear or damage
Wear around the outer sleeve of the roller
Prime Source Offers Professional Multi Terrain Loader Undercarriage Services
Prime Source is your hardest-working partner when you need to maintain your earthmoving fleet. Our team is skilled in performing an array of undercarriage services, from scheduled maintenance to component replacements and overhauls. Our inventory includes rubber and steel undercarriage tracks for multiple makes and models, plus a variety of track patterns and dimensions that suit various applications.
With our expansive distributor network of new and aftermarket undercarriage parts, our online store helps you keep your equipment at peak performance. Contact us to learn more about our undercarriage services or schedule an appointment.