Whether for maintenance, repairs, replacements or an upgrade, all heavy equipment will eventually require new parts. If you plan to work on yours, you're going to encounter people talking about OEM vs. aftermarket parts. What's the difference? We'll give you the complete rundown so you can make the best decisions when it comes to the care of your fleet.
What Is the Difference Between OEM and Aftermarket Parts for Heavy Equipment?
On the surface, OEM and aftermarket parts both do the same job, but each offers distinct advantages that set them apart.
OEM Parts
Equipment manufacturers will either subcontract parts production for their new lines of equipment or produce them in-house. Whoever makes the original part is the original equipment manufacturer — the OEM supplier. They usually provide replacement parts as well. You can find OEM parts for most later-model pieces of heavy equipment, but it can get more challenging the older your model gets.
Since OEM parts are produced by or in partnership with the brand, they often provide the most precise fit. They are also typically only available by contacting the equipment dealer. OEM parts tend to have a higher price tag, but the potential performance benefit may be worth the trade. If you can find the OEM parts you need and they fit into your budget, buying OEM components may be your best investment.
Aftermarket Parts
Aftermarket parts are produced by other manufacturers in the marketplace. With these parts, producers outside the original development team have the advantage of seeing what works best with the original design. They can use this research to eliminate flaws and make improvements, ensuring that most aftermarket parts provide you with equal — and sometimes even better — performance than the OEM alternative.
Since there is more competition with aftermarket parts, they also tend to be the affordable option. Reduced parts costs can help you ensure you're able to dedicate the resources necessary for maintenance and repairs when necessary. There are also more available options to select from, so it can be easier to find what you need fast and get it delivered.
How to Choose Between OEM Parts vs. Aftermarket Parts
Even with a grasp of the difference between OEM and aftermarket parts, it can still be tough to decide. Whether you're performing a simple service or getting ready for a complete engine overhaul, see which option delivers the most benefits for you.
Take into consideration your:
Equipment age: There are more OEM options available for newer equipment. OEM producers are under no obligation to keep supporting older models. Options reduce each year your fleet grows older.
Operating budget: Performing maintenance on schedule, and repairs when necessary, is essential to keep your equipment in peak condition. To keep up, choose the option that best fits within your budget.
Part accessibility: For some heavy equipment and in some locations, it can be tough to get dealer support. Aftermarket parts are more readily available. You can find them in equipment service shops and online.
Performance expectations: While OEM and aftermarket parts often have similar report cards, there can be differences that impact your bottom line. Compare when purchasing to see which delivers the maximum value.
Should I Use OEM Parts on My Equipment?
Quality is the most important difference between OEM and aftermarket equipment parts for many companies. These products come from the original manufacturer or a third party that builds them to the manufacturer's specifications, ensuring a precise fit and optimal performance. Aftermarket parts can come from multiple sources and often do not meet the same standards as OEM products, leading to potential reliability issues.
Longevity is another of the many benefits of OEM parts on heavy equipment. Bulldozers, landfill compactors, underground mining vehicles and other essential equipment must operate in challenging conditions. OEM products can withstand this intense usage and provide a longer life span.
The more comprehensive warranty coverage also provides more protection and peace of mind for buyers who want maximum value for their money.
When Does Purchasing Aftermarket Parts Make Sense?
Price is often the deciding factor when choosing aftermarket parts. Since many companies may manufacture the same product, the competition can drive the cost down and provide substantial savings. Some businesses are willing to accept lesser quality to save money, especially when buying parts for equipment they use less frequently. The brand is a crucial factor when selecting aftermarket parts — some manufacturers have a more solid reputation than others.
Sometimes, aftermarket parts are the only option for buyers. Many manufacturers cut back on or stop producing OEM products as their equipment ages due to decreased demand. Companies that want to keep a model in service instead of upgrading or replacing it may need to settle for aftermarket parts.
While the quality of aftermarket parts can be uncertain, this isn't always the case. Some manufacturers can detect and correct flaws in OEM products, enabling them to provide components with improved performance and longevity at a lower price.
Why Maintenance Matters
With a regular preventive maintenance program, you can notice the signs of wear before they become an issue, allowing you to install a replacement when it works for you. Heavy equipment components are connected — when one starts to fail, it can cause a chain reaction that leads to performance issues, premature wear and damage to other parts, all leading to mounting costs. Catching problems early breaks that chain.
Maintenance programs are easy to establish. You can follow the prescribed recommendations in your operator's manual or partner with a local service shop and let them handle the hard work for you. Like our own fully equipped service center, many equipment shops have trained technicians who can make sure your parts installations are accurate so you can get back to work fast.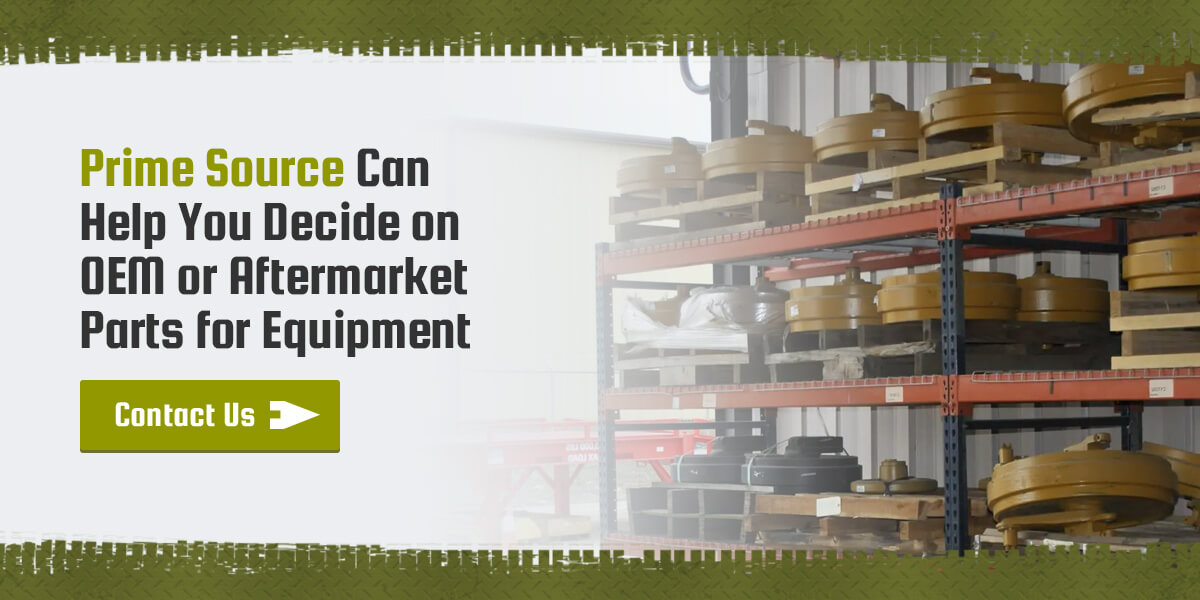 Get Quality Aftermarket Parts and Service for Your Entire Fleet
Give your fleet the care it needs to help you become as productive and efficient as possible with parts and services from Prime Source. We have a massive selection of quality aftermarket parts and the knowledge it takes to pair you with the right match for your equipment. We also offer all levels of local maintenance and support in North Carolina to make managing your equipment simpler than ever.
Browse our online parts store for all the items you need. You can also book a service or get assistance with an order by calling 704-597-0030 or contacting us online.