Excavators are subject to harsh conditions, often working in the mud, sun, snow and rain. Regular maintenance is necessary to keep your excavator working as it should. You'll also gain better fuel efficiency, higher productivity, lower operating costs and reduced equipment failure rates. Learn more about how to maintain an excavator to keep your equipment at its best.
Signs Your Excavator Needs Repairs
The wear and tear on your excavator from regular use will eventually cause parts to break down. If you notice these issues with your excavator, you may need a repair:
Warning light indicators turned on: A warning light lets you know a component in your equipment isn't working correctly.
Low fluid levels: Low hydraulic fluid or oil levels can signify a filter leak or another issue.
Abnormal noises: When components make unusual noises, it's often a sign that something is wrong. Sounds like hissing, screeching or grinding often indicate a need for corrective action.
Malfunctioning part or system: A component breakdown can start a chain reaction throughout your excavator, causing a feature or system to stop working.
How to Maintain an Excavator
These maintenance tips will help you get the most out of your excavator:
Clean the undercarriage: Remove the built-up dirt and debris on the undercarriage with a shovel or pressure washer. Debris can cause premature component wear.
Check the track tension: The track tension should allow a bit of slack. Excess tension can put pressure and cause wear on the chain and sprockets.
Follow proper digging techniques: The original equipment manufacturer (OEM) operation and maintenance manual has tips for minimizing wear and tear on the tracks. Adhere to these guidelines to help your components last.
Excavator Maintenance Checklist
You should check certain parts of your excavator regularly to make sure everything is functioning as it should. Maintain your equipment by following our excavator maintenance schedule:
Daily: Check coolant, engine oil and hydraulic system oil levels, and drain the fuel system water separator.
Monthly: Change the engine oil and filter as well as the final drive and swing drive oil levels.
Every three months: Prime the fuel system and clean the fuel tank cap and strainer.
Every six months: Tighten the battery hold-down, and replace the case drain, pilot and return in the hydraulic system oil filter.
As needed: Lubricate the adjustable gauge undercarriage frame, inspect and replace the battery, and reset the circuit breakers.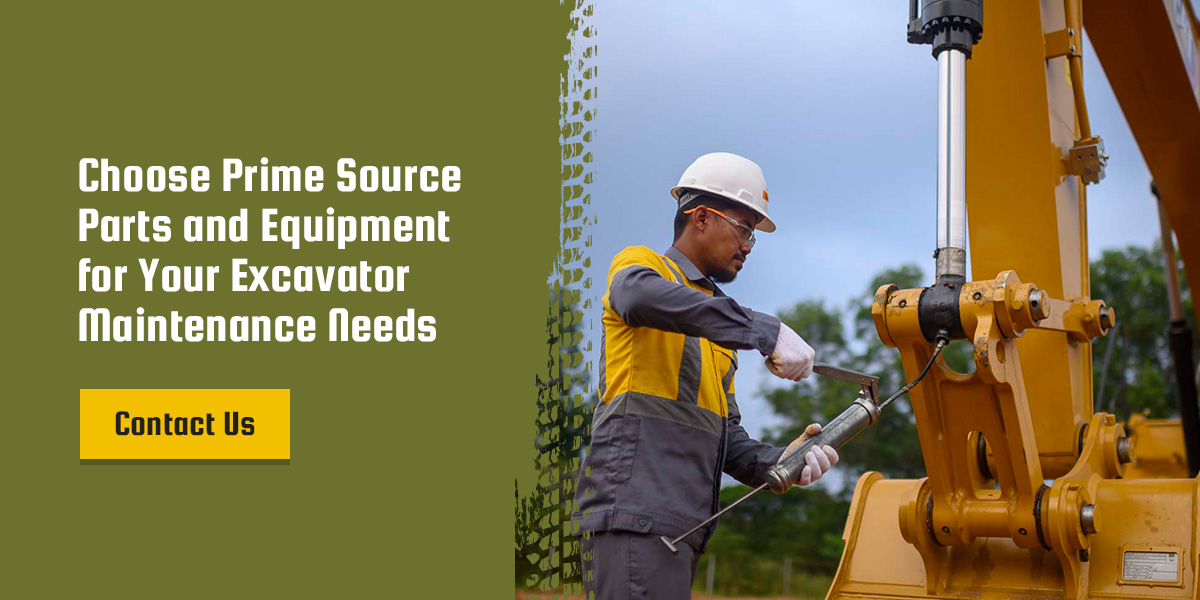 Choose Prime Source Parts and Equipment for Your Excavator Maintenance Needs
Prime Source Parts and Equipment provides everything you need to maintain your excavator. We have an extensive inventory of new and used equipment parts and a team of certified technicians. Schedule a maintenance or repair service by contacting us today.