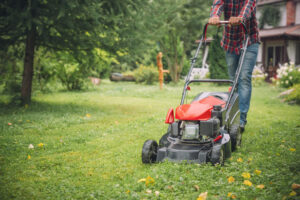 Your lawnmower is probably one of the most-used pieces of equipment in your garage. Whether it's a riding mower or a walk-behind model, lawn care gear is complex pieces of equipment that require regular maintenance and repairs. In this guide, we'll take a look at the basics of lawn mower repair and how to keep your small engines running all season long.
What Are Common Lawnmower Issues?
There are many possible reasons your lawnmower could require maintenance or repairs, from general wear and tear to emergency failures. Here are some of the most common mower issues:
Electrical Issues
A series of electrical problems can spell trouble for your lawnmower. Fuses, batteries, and spark plugs might run out of power or fail, leaving your engine in need of repairs. Frayed wires, blown fuses, and other damaged electrical components could be dangerous as well as ineffective. Always refer to your operator's manual for correct operational procedures. If an electrical issue occurs, please consult a trained and certified small engine technician for evaluation and repair. Fuel-Related Issues
Your choice of gasoline or another fuel source such as diesel or LPG may also play a role in your small engine problems. The quality and age of the gas can affect your lawn mower's fuel system, resulting in rapid degradation or decline over time. E10 gasoline contains ethanol which can put your lawnmower at a higher risk for failure. Leaving gas in the fuel tank for long periods also wears away at the tank, fuel lines, filters, and other components, so be sure to purge your fuel system regularly.
Technical Problems
Technical issues such as worn-down blades and damaged wheels affect the mower's overall performance. These problems can lead to engine troubles down the line. Pay close attention to the condition of every component of your lawnmower to catch any changes or developing issues early on.
What Maintenance Do Lawnmowers Need?
After you or an engine professional identifies the issue, you can determine the type of maintenance your mower needs.
Repair: One of the most common solutions to any problem, repairing a faulty part could be more cost-effective than purchasing a new one.
Replacement: If a particular component is damaged beyond repair, replacement is a straightforward solution. Remove the broken piece, order a quality replacement part and install it to get your mower back on the lawn.
Preventive: Avoid unnecessary repairs or replacements to your lawnmower through regular preventive maintenance measures, including checking your oil and properly storing your equipment.
How Often Do Lawnmowers Need Maintenance?
The frequency of your lawnmower engine maintenance needs depends on the equipment type and usage. Unexpected issues might pop up and require attention periodically, but performing lawn mower preventive maintenance every season will help avoid unnecessary repairs or replacements. Whether it's cleaning grass out of the engine after every use or servicing the hydraulics once a year, staying on top of simple maintenance will save you time and money in the long run.
Consult the owner's manual to better understand your lawn mower engine's maintenance and repair needs.
Lawn Mower Engine Repair Services at Prime Source
At Prime Source, our professional technicians offer years of experience to identify and solve your lawn mower problems. Contact us today to learn more about our parts replacement and small engine services.